Parassini Muthappan Temple
Parassinikadavu Muthappan temple is a temple, located at Anthoor Municipality on the banks of the Valapattanam river about 10 km from Taliparamba and 16 km from Kannur City in Kannur District, Kerala. Principal deity of the temple is Sree Muthappan, whose divinity is presented as a ritualistic theyyam enactment in two versions called Thiruvappana and Vellattam. According to the local tradition the presiding deity is a manifestation of Shiva. Vellattam and Thiruvappana are the generic names for two types of ' Theyyam Ketti-aadal ' in the kavu/temples of North Malabar. Vellattom is a minor version of the ritual enactment where the ornaments, decorations and parapharnelia are minimal thanks to which all actions including vaaythari (speech) is maximum and Attam (dance) will be at its peak. If you compare this level of enactment to the idol of a deity in a temple sanctum which is installed as per sathwic sasthra and vedic rituals, Vellattom is at par with the idol alone without the prabha-mandalam which circles it.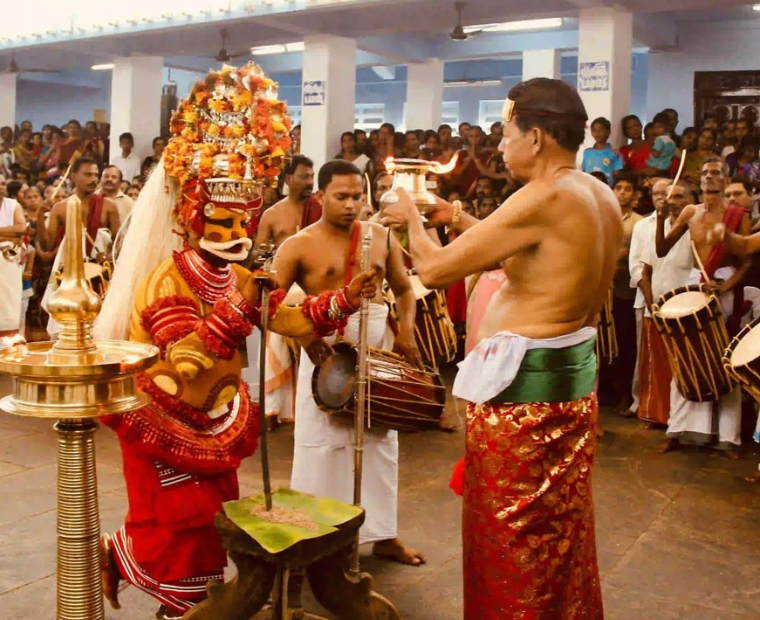 A more easier example is the Seeveli ceremony with only the small idol on top of the elephant. On the other hand, Thiruvappana is the full version, with royal regalia and bigger dimension of prabhamandalam. Because the decorations are more and are of binding nature, the action is minimal and sluggish and the uriyaadal (replies to prayers) will be crisp, to the point and predictions will be accurate. To compare, Thiruvappana stands at par with temple idol with the Prabha-mandalam (representing the auric circle) around it and the Seeveli with the big Swarna-Kolam covering the small idol on top of the elephant. Muthappan is considered as the manifestation of Lord Shiva himself in Nayattu (hunter) format. The Vellattam which comes initially is Siva himself as the said minimal version. But the Vellattom which comes along with the grand Thiruvappana of Muthappan later on, is the minimal version of Vishnu who according to mythology, comes to Siva's assistance when he started travelling with the poykannu (blindfold) and started suffering serious difficulties to travel and hunt for food.
Rituals of the temple is unique in that it does not follow the Satvic Brahminical form of worship, as in other Hindu temples of Kerala. The main mode of worship is the ritual enactment of both the versions of Muthappan, through a traditional dance known as Muthappan Theyyam. Fish, meat and toddy are the customary offerings to Muthappan.[6] Muthappan Thiruvoppana Mahothsavam is the major festival of the temple, celebrated for three days every year on 19, 20 and 21 of Kumbham (the days correspond to 3, 4 and 5 March).
Check Parassinikadavu Muthappan temple at Google Map
Courtesy:parassinimadappurasreemuthappan.com